Walks  for May/June  2019
If you are new to walking and would like to  join us then please contact Sarah on 07879640676 or email dolman.sarah@yahoo.co.uk  Please note that we normally have breaks on all walks and usually take snacks/drinks to have on route even though we may stop at a pub/tea shop afterwards. The pace is normally around 3 miles an hour, so not a stroll! Ideally, you will have some level of fitness and have done some walking, but we are only as quick as the last person at the back, so we do stop and wait for people if you are concerned in any way.

In addition we take photographs (for our facebook page) and sometimes video for promotional purposes so if you do not wish to be included then that is fine, just opt out!
I also do not allow dogs on the walks, because of possible issues with cattle. There are other groups which cater for dog walkers. 
Please  have a look at the slideshow of Solemates from 2017 on the home page if you would like to see what we get up to.
People are able to come along for a 'free walk' with us before deciding if they would like to join Solemates Club. Membership is currently £20.00 for the year. Once a member you are able to come along as little or as much as you like. On average there are around 15 people attending the walk each time.
We are trying to encourage some new faces along to the club, in particular some men!  so, if you know of anybody who may be interested?  Please send them this way….
Friday 10th May   Norfolk and Norwich Festival Launch plus Fish/Chips and Drinks
Meet 7pm outside the Grosvenor Fish Bar, Pottergate, in Norwich and we take the fish and chips inside over to eat on a reserved table in the Bird Cage pub opposite, and relax with some drinks. Then, before 9pm we will head over to City Hall area to watch, an ambitious high wire walk, spanning the centre of Norwich. Described as a once in a life time experience and a magical performance which is a free event. This is looking to be a popular event,  so just turn up and we will have to 'suck it and see' how many we can accommodate sitting down for the fish and chips, some of you may have to make do outside for the eating bit! See you there, Sarah, 07879 640676.
Sunday 19th May

     Hardingham 8 mile walk, kindly led by Ralph
Meet/park at Hingham Market Place outside the White Hart pub, 3 Market Place, Hingham, NR9 4AF ready to start walking at 10.30am. There is additional parking space near the Church, just 150 yards from the White Hart, but please meet us outside the White Hart. Toilets available in the market place. This is a 'shorts friendly' walk along quiet roads, public and permissive paths along the Hardingham estate with pleasant views over the rolling countryside. Please bring snacks/drinks for a couple of breaks on route. Optional drinks afterwards in the White Hart. As always new faces welcome but please contact Sarah on 07879 640676 or email dolman.sarah@yahoo.co.uk to let me know you are coming so I can look out for you.            Group photo of us all at Hardingham Church…………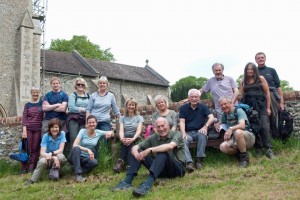 Friday 24th May

   Cringleford and around the UEA Broad       Evening walk    4.5 miles
Please note that there a lot of roadworks along the All at the roundabout near Cringleford, it may be worth approaching the Willow Centre via Earlham Road way. 
Meet/park ready to start walking at 6.30pm from the Willow Community Centre, Willow Croft Way, Cringleford, NR4 7JJ.  Please google the post code to get an idea of where you are going . This is a walk along the River Yare and around the University Broad which is actually quiet peaceful, and with many opportunities for viewing wildlife. Option for drinks afterwards nearby in Eaton,  new faces welcome but please let me know so I can look out for you, Tel: Sarah on 07879640676 or email, dolman.sarah@yahoo.co.uk         Willow Centre below/……………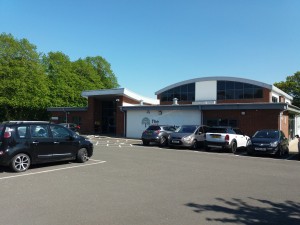 Bank Holiday Monday Walk 27th May

   

Potter Heigham/Hickling Broad walk 7.5 miles
Meet/park at Potter Heigham Village Hall, School Road, Potter Heigham, NR29 5LW ready to start walking at 10.30am. This walk is an area that we have not covered before, Hickling Broad, which is the largest of the Norfolk Broads. The area is surrounded by reed beds, and is a haven for wildlife. We also walk a bit along the River Thurne to Potter Heigham, and we will have a 30 min stop in the village, hopefully, time for an ice cream if nothing else as it will probably be very busy. Returning to the start via the village on route along footpaths, quiet roads and tracks.  A pretty broadland walk. Contact Sarah on 07879640676 or email dolman.sarah@yahoo.co.uk New faces always welcome but please let me know, thanks.
Sunday 2nd June

       Thetford walk approx. 7 miles  kindly led by Brian
Meet/park ready to start walking at 10.30am in the free Three Nuns Bridges car park (next to the British Trust of Ornithology) IP24 2PU. Please join us for a lovely walk along the River Ouse with visits to the British Trust of Ornithology Nature Reserve (Free Entry), the Castle Mound, and the ruins of Thetford Priory before heading back into town. Option for refreshments although please bring along snacks/drinks for breaks along the way. Contact Brian on 07908 196919 for any information about the walk, otherwise new faces please to Sarah on 07879 640676 or email dolman.sarah@yahoo.co.uk
Sunday 9th June

   Oxnead and Buxton Walk about 7 miles plus option afterwards for a late lunch at the Plough Inn, Marsham
Meet/park at Buxton Village Hall, Mill Street,NR10 5JE, entrance opposite the Church. Please be ready to start walking at 10.30am. A delightful walk along the River Bure, the Bure Valley Railway and past Oxnead Hall/Myton Hall on route. Afterwards we have the option of a carvery lunch/limited choice from the kitchen at the Plough Inn, Marsham. One course is £10.95, Two courses,£15.95. I have booked the table for 1.30pm sit down for 12 people, first come, first served basis. I do not need a deposit or to pre-book for this but I would appreciate it if you could only put your name down for the meal if your really sure you can make it! Many thanks, Sarah on 07879 640676.
Oxnead Hall below…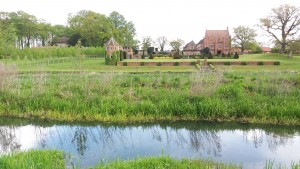 Sunday 16th June

  Swanton Novers walk near Fakenham,  7/8 miles
Meet/park 10.30am ready to start walking from Swanton Novers Village Hall, St Giles Road, NR24 2RB, toilets may be open, a donation towards village hall funds is necessary for today please. The walk is very pleasant woodland walking, and with paths and tracks via Croxton and Barney along the way. Please bring snacks/drinks for a couple of breaks. Further refreshments available afterwards at the Explorer Café/Bar in Briston. New faces welcome, but please let me know you are coming along so I can look out for you, Sarah 07879640676 or email dolman.sarah@yahoo.co.uk
Sunday 23rd June

  Walk coming soon/…………………………
Fri 28th June

  Come along and get a taste of the history of Norwich pubs in this 1.5 hour guided tour by Paul Dickson. Meet outside the 16th Century Maids Head Hotel, Wensum Street, ready to start at 6.30pm sharp, the guided tour last 1.5 hours, cost is £7.50 and includes a drink afterwards in the Maids Head Hotel. Names please to Sarah on 07879 640676 or email dolman.sarah@yahoo.co.uk  Preferably with payment, so we secure your place!  Details: www.pauldicksontours.co.uk
Sun 30th June

   Horsford Woodland area, 8 miles followed by tea and scones at Gwennies in Horsford
Meet/park in the car park in the woods near the mini roundabout on Green Lane, Horsford, B1149,opposite Haveringland Road ready to start walking at 10.30am. Nearest post code I have is NR10 3EE, but please google the area. The walk takes us along Green Lane towards Horsham St Faiths, and returning along Dog Lane, through plenty of woodland terrain and then, to return to the cars. We will have a couple of short breaks along the way but perhaps you may wish to save yourself for those tea and scones later on.  Directions will be given out on the day for the way  to tea/scones. Contact Sarah on 07879 640676 for any enquiries.
Sorry but this Horsford walk is a members only walk today.
Sunday 7th July

  Walk led by Ralph around Thompson, near Watton, details to follow soon……………………
Sun 14th July

    Aylsham area walk followed by afternoon at Rocky's Road, Classic Cars, music and stalls, in Aylsham, more details to follow soon…..
Sunday 21st July  date tbc!

  Treasure Hunt in the City organised by our very own Phil and Sharon ! details soon.

more walks to follow/………………………………….

As with any activity there is always a risk attached to it and walking is no different. All persons attending the walks or events, do so at their own risk and are expected to take responsibility for their own safety and welfare. Solemates can not be held responsible for any accidents or injuries during any events. Please ensure that you have suitable clothing and footwear for the weather conditions.  Should you decide that you would like to attend a walk/event then please contact me so that I can welcome you.
Should you need any further information and to let me know you are attending events then please contact me at

dolman.sarah@yahoo.co.uk or 07879 640676.

  Prospective members are always welcome to try us out first for free and the membership is only £20.00 which runs for a whole year.  Hope you can join us soon…….